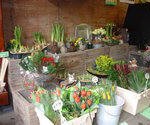 Tijdens het Tulpen seizoen kunt u 7 dagen per week bij ons terecht voor een prachtig bos tulpen. Grote , zowel Hollandse als Franse tulpen in alle kleuren en maten. We hebben dagelijks vers geplukte bossen voor u klaar staan. Maar het mooiste is de unieke mogelijkheid om uw eigen bos tulpen te plukken in onze 1/2 hectare grote Tulpenpluktuin. 
 In de tuinhoek hebben we  tijdens het Plukseizoen een klein aanbod met perkgoed.
Bent u voor uw bedrijf of voor een bijzondere gelegenheid op zoek naar aan de boerderij gerelateerd bloemwerk dan bent u bij ons nog steeds welkom.
Seizoengebonden bloemwerk.
Bloem abonnementen voor maandelijkse  aankleding van uw balie, op uw bedrijf of kantoor.
Bloem abonnementen voor privé gebruik om te weg te geven of zelf te krijgen. 
 Rouwwerk speciaal  gerelateerd aan boerderij   en/of buitenleven.
Voor grote hoeveelheden bloemen of planten en bloemwerk voor bijzondere gelegenheden  kunt u nog steeds het jaar rond bij ons terecht.
Voor informatie en prijsopgaves info@boerenshop.nl of 06-300736