Tulpenplukkraam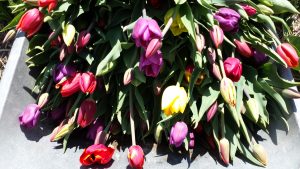 In de Boerenshop vindt u de ingang van de Tulpenpluktuin en  de Tulpenplukkraam. Hier krijgt u voorlichting over het plukken en kunt na het plukken uw tulpen afrekenen en laten inpakken. En natuurlijk vertellen wij u alles  over de verzorging van uw vers geplukte tulpen. In de Boerenshop  vindt u een verscheidenheid aan cadeau artikelen. Het hele jaar door zijn wij op zoek na leuke hebbedingen die te maken hebben met onze tulpen, boerderij en handnijverheid.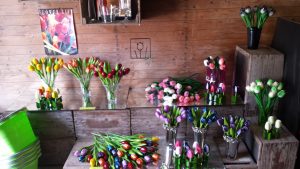 ---
Boerenbo

l
Tijdens de Tulpenpluktuin is de Boerenbol en het terras dagelijks  open en staat vol met tulpen. Bij een kopje koffie of  een coupe verse aardbeien met slagroom kunt u  genieten van het uitzicht op de polder en de Tulpenpluktuin.
Bij de keuken kunt u  kleurrijke picknicktassen om mee te nemen voor onderweg of te gebruiken in de tuin bestellen . Alvast voor genieten vanuit u luie stoel, neem dan een kijkje via de virtuele toer.
Boerenshop
In 2014 hebben we ons bedrijf  vereenvoudigd en de Boerenshop  gesloten. Tijdens de tulpenpluktijd toveren we de Boerenshop om tot Tulpenshop. We verkopen we een klein gedeelte van ons voormalige assortiment uit de Boerenshop de  dagvers geplukte aardbeien, de ambachtelijk gemaakte Blokzijler Brok en  Boerenkaas. Er is een kraam met artikelen van Proviand van het land en natuurlijk ontbreken de souvenirs niet.