Inrichting van de Tulpenpluktuin.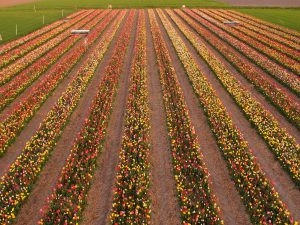 De tulpenpluktuin heeft een totaal oppervalk van 5000 vierkante meter en is de moeite waard om helemaal te ontdekken. De paden tussen de tulpenbedden zijn extra breed aangelegd en bedekt met stro, zodat het met een beetje hulp ook toegankelijk is voor mensen met een kinderwagen of rolstoel.  Alle tulpenrassen zijn door elkaar heen geplant zodat u door de hele tuin heen elke keer opnieuw weer nieuwe rassen of kleuren zult vinden. De kleurenpracht veranderd dagelijks doordat vroege rassen zijn uitgebloeid of  geplukt  en nieuwe tulpen  weer boven komen.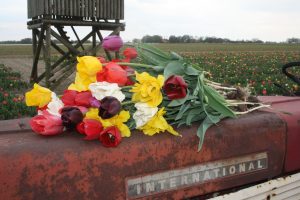 In de Tulpenpluktuin staat een 5 meter hoge uitkijktoren. U heeft een prachtig uitzicht over de polder en kunt van hieruit ook het oude havenstadje Blokzijl zien liggen. Vergeet niet uw fototoestel mee te nemen. In de Tulpenpluktuin staan informatieborden. Hier kunt u leuke wetenswaardigheden op terug vinden over de tulpenteelt en onze tuin.
Tussen de tulpen zijn verschillende picknickveldje te vinden, waar je heerlijk kunt genieten van de rust, een lekker hapje of drankje. In de Boerenbol zijn hiervoor koffiemanden en picknicktassen verkrijgbaar.
Genoeg om van te genieten voor jong en oud.