Met je paard of pony tussen de tulpen. Uitverkocht!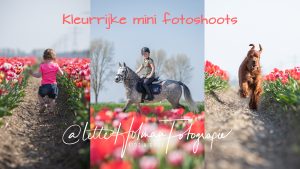 Hoe gaaf is een fotoshoot met je eigen paard of pony midden tussen de tulpen. Onze huisfotografe Alette Holman laat deze droom samen met u uitkomen.
Aktie foto mogelijk
Foto('s) wordt digitaal geleverd (via beeldbank)
Genoeg parkeerruimte
Take away en toiletten geopend
Inclusief een emmer vol Tulpen
Wilt u de Tulpenpluktuin als locatie gebruiken voor uw eigen fotoshoot dan zijn hier kosten aan verbonden. Dit geldt voor familiereportages, bruidsreportages en georganiseerde reportages van honden , paarden of voor fotoclubs. Voor kosten en tijdsafspraak kunt u contact opnemen met info@boerenshop.nl of 06-30073641.